1x - Blaziken - 17/108 - Holo Rare NM Pokemon Dark Explorers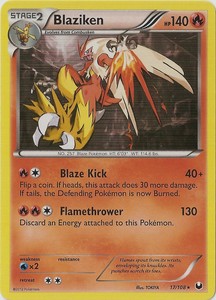 ---
Thank you for your considering a purchase from Atlas Collectables! This Store page is getting prettier we promise, just switching to a new platform! 
Blaziken - 17/108 - Holo Rare  Condition: NM Dark Explorers
Store Policies: All items sold are Genuine and from the original manufacturer, whether it be Wizards of The Coast, Hasbro, Konami, Pokemon Company, Score, Panini, etc. Condition - Card Condition is described in the title for all stock photos, for non stock please review the images. See Scale Below.
Shipping - We do our best to ship in packaging suitable for the pricepoint you are purchasing. Anything over $2 expect top loaders, over $10 expect better packaging, over $100 even better packaging with expedited shipping
Estimated Lettermail Time (we offer upgraded shipping at an additional fee). Please keep in mind these may differ slightly from the shipping times offered by :
United States - 5-14 Business Days
Canada - 3-12 Business Days
International - 9-20 Business Days
We accept payment by any of the following methods at this time: PayPal Please pay as soon as possible after winning an auction / Buy It Now, as that will allow us to post your item to you sooner! After 3 days an unpaid item claim is created automatically by .
Shipping on orders over $120 USD are shipped with expedited tracking (2-5 days) free of charge. The buyer is responsible for any additional shipping or customs fees applied while item is in transit. We offer combined shipping of base + 0.25 per additonal card on US/CA orders, base +1.00 for international. Your order will be dispatched within 1 working day of receiving payment (Monday-Friday).
If you are not 100% satisfied with your purchase, please send us a message with your issue so we can determine the best solution for everyone.
Conditions
NM - Card has 0-1 visible defects and is close or equal to Pack Fresh condition
SP / LP - Card has 1-4 visible defects, in most cases some very minor scratching,
or edgewear. Wear may not be visible or easily noticable.
PL / MP - Card has defects, such as edge and corner wear, or scratching.
HP - Card has defects, such as edge and corner wear, or scratching. This may also include,
minor creases or bending.
DMG - Card has visible wear, pausibly including: Scratches, Bending, Edge and Corner Wear, Creases.
Feel free to visit us at AtlasCollectables.com